About EGT and Its Mission
EGT operates the first export grain terminal built in the United States in over twenty-five years, a state-of-the-art facility redefining the boundaries of Pacific Northwest grain export with its higher speed, greater flexibility, and superior efficiency. The terminal is among the leading facilities operating in the region, a status secured by its groundbreaking design that enables it to handle wheat, corn, soybeans, soybean meal, and DDGs through both barge and rail. Given these capabilities, EGT's entry to the Pacific Northwest strengthens U.S. trade flows and sets a new standard for grain export.
EGT, LLC is a joint venture between Bunge North America, the North American operating arm of Bunge Limited (NYSE: BG) and ITOCHU International Inc., a U.S. subsidiary of Japanese trading company ITOCHU Corp. (TYO: 8001).
Mission
EGT, LLC is a vital link in the international food and feed supply chain. We are a world class operation with dedicated team members committed to providing quality products and services to our customers both at home and around the world. Our vision is to cultivate an environment of safe, continuous improvement while challenging and supporting employee and facility achievements as recognized by our customers, peers, community, and families.
Bunge

Founded in 1818, Bunge is a leading agribusiness and food company with integrated operations that circle the globe, stretching from the field to the retail shelf. Bunge's approximately 35,000 employees in more than 40 countries are dedicated to improving the global agribusiness and food production chain by efficiently transporting agricultural commodities and by creating high-quality food products enjoyed by people worldwide.
Itochu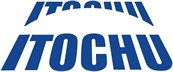 Founded in 1858 with roots in the linen trade, ITOCHU Corporation now has approximately 130 bases in 68 countries spanning a variety of industries. ITOCHU is a sōgō shōsha, a general trading company with diversified interests. Some examples of ITOCHU's areas of concentration include: textile, information and communications technology, machinery, energy, metals, minerals, chemicals, forest products, general merchandise, food, construction, realty, finance, and logistics services.