EGT operates the first export grain terminal built in the United States in over 25 years, a state-of-the-art facility that is redefining the speed, flexibility and efficiency of Pacific Northwest grain exports.
The terminal is among the leading facilities operating in the region, a status secured by its groundbreaking design that enables it to handle wheat, corn, soybeans, soybean meal, and DDGs through both barge and rail.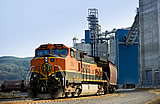 Given these capabilities, EGT's entry to the Pacific Northwest strengthens U.S. trade flows and sets a new standard for grain export.
EGT, LLC is a joint venture between Bunge North America, the North American operating arm of Bunge Limited, and ITOCHU International Inc., a U.S. subsidiary of Japanese trading company ITOCHU Corp.
EGT ships North American farm products to export markets around the globe from its export terminal in Longview, Washington.